Choose from Thousands of Products to Customize!
We want to make sure our customers have the choices of the absolute best products to choose from when deciding on their customization. From apparel, hats and accessories to banners and signs, we have hundreds of thousands of products to choose from. From these, we can customize anything, and will surely get you noticed.
Signworks Sportswear Catalog AB
Browse our primary catalog featuring thousands of products that can fit any need at a great price, all imprintable by Signworks Sportswear for a unique result.
Signworks Sportswear Catalog SM
Our catalog featuring top name brands and a wide range of products to choose from for the perfect customization from Signworks for sports, work, and everything in the middle.
Signworks Sportswear Catalog SS
Our activewear catalog featuring 886 pages of apparel, bags and caps from top manufacturers, all imprintable right here with Signworks Sportswear featuring your logo.
Signage Catalogs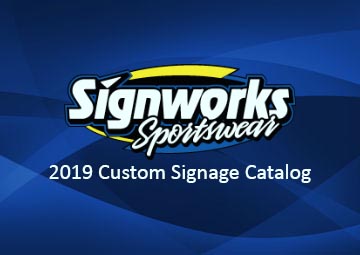 Coming Soon!
Signworks Sportswear Signage Catalogs
Browse from the hundreds of custom banners, stands, tents and displays and more to find the perfect fit for your business or event, all custom finished by Signworks Sportswear.